Member for
4 years
Details: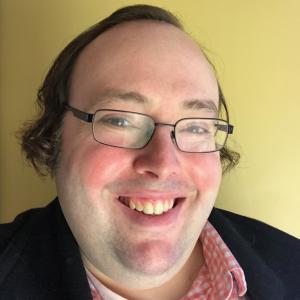 Job Title
Senior Front-End Developer
As a senior front-end developer for Lullabot, Marc focuses on creating great experiences no matter the device, browser or abilities of the person accessing a site. Marc is currently serving on the Drupal Diversity and Inclusion Workgroup's Leadership Team and has also served as co-maintainer of Drupal 8's core Responsive Image and Breakpoint modules.
He previously worked for a local Twin Cities suburb for 10 years, doing web development and graphic design; he also served on the board of the National Association of Government Web Professionals for five years, including a year as President of the organization. Marc earned a BA in English and a concentration in Public Service from Albion College in Michigan, as well as degrees in web design and graphic design at Minneapolis Community & Technical College.
Marc enjoys living in the Twin Cities suburbs with his wife and five-year-old daughter, as well as their dog, and getting together regularly with family who live nearby. His hobbies include going for walks, taking cooking classes, learning languages and helping to plan family vacations.
Previous presentations
"So long and thanks for all the requests: Front-end performance in the age of http/2"
"Won't you take me to Chunk-y Town: Component-based theming and the future of Drupal front-end development"
"Sizing up responsive images: Make a plan before you Drupal"
DrupalCon, New Orleans, LA, May 2016

MinneWebCon, Minneapolis, MN, April 2016

MidCamp, Chicago, FL, March 2016

Florida Drupal Camp, Orlando, FL, February 2016

Drupal Corn, Cedar Falls, IA, August 2015

Twin Cities Drupal Camp, Minneapolis, MN, June 2015

Video: http://2015.tcdrupal.org/session/sizing-responsive-images-make-plan-you-drupal
"One Second or Bust: The Quest for Quick Page Loads"
MinneWebCon, Minneapolis, MN, March 2015
"Building a Drupal 8 theme with new fangled awesomeness!"
Milwaukee Drupal Users Group September Meetup (presented remotely)

Twin Cities Drupal Camp, Minneapolis, MN, August 2014

Drupal Camp Wisconsin, Madison, WI, July 2014

Drupal Corn, Ankeny, IA, July 2014
Webinars for NAGW and talks for local front end dev groups on responsive design and responsive images
Slides: http://www.slideshare.net/MarcDrummond/responsive-design-for
Local panels on social media and Drupal
NAGW National Conferences
2013: Responsive images

2009: XHTML

2008: Website prototyping

2007: XML and XSL