Member for
9 months 2 weeks
Details: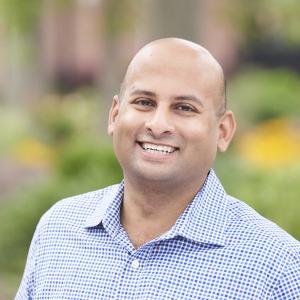 Job Title
CEO and Founder
Harish is the CEO & Founder of Interpersonal Frequency (I.F.). He guides I.F. to help counties, cities, and public libraries across the country use data, design, and technological innovation to fix what's broken. Cities like San Diego, Baltimore, Tacoma, and Washington, D.C. have rebuilt their digital presence to respond directly to their citizens' needs with I.F.'s help. At the county level, I.F. has worked with teams in San Mateo and Cobb counties as they reimagine and refresh their digital footprint and services for residents.
Rao and his team have also partnered with public libraries like Houston's Harris County Public Library to wrest control from proprietary tech companies and build powerful open source platforms for a better patron experience. It's innovative, in the weeds, and effective.
Prior to I.F., Rao became a PhD student at Rochester Institute of Technology (RIT) where he studied the mathematics behind social networks. He used Markov Chain/Monte Carlo (MCMC) methods to simulate the spread of information in interpersonal networks and used online social network data to help model the spread of deadly diseases.
The research inspired Rao to found I.F. to empower government and civic organizations to be relevant, accountable, responsive, and engaging to their communities through the use of data driven technology and award winning websites. In many cases the majority of users coming to government websites fail to achieve their purpose of visit. Rao and I.F. are dedicated to changing that. "We should be able to find and receive all the vital services that our government provides as easily as we place an Amazon order."
Rao combines real-world expertise in civic technology, management, and digital marketing with the insights from academic research to address these failures head-on. The result is I.F.'s unique approach to developing websites that serve municipal governments and the public in more meaningful and efficient ways. I.F.'s innovative Voice of Citizen® analytics platform gathers data to help understand not only where the problems lie, but also where to find opportunities for improvement. By making digital infrastructure a priority and empowering individuals to make use of the government services they are entitled to, I.F. and Rao are helping to provide a better digital blueprint.
Prior to I.F., Harish Rao started his career at the intersection of politics and technology as the Director of Technology for a U.S. presidential campaign. In 2004, he co-founded his first company, Echo Ditto, which focused on digital strategy for mission-driven corporate clients and nonprofit and advocacy groups including St. Jude Children's Hospital, Seventh Generation, and the World Food Programme.
When not crusading against inadequate government websites, Harish collects contemporary art, attends spin classes, and participates in Cub Scouts with his sons. Harish is also passionate about and working towards furthering the mission of the college his parents founded to serve the poorest students in Mysuru, India. There he helped launch an institution focused on teaching modern business methods to first-generation students.